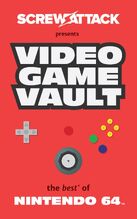 Video Game Vault: The Best of Nintendo 64 is a paperback book released on June 28th 2016. The book features entries from the ScrewAttack crew discussing their favorite games from the Nintendo 64. Entries are written by
Craig
,
Bryan
,
Nick
,
Chad
,
Shaun
,
Sam
,
Ben
,
Sean
and
Austin
.
The book is based off ScrewAttack's Video Game Vault series, where the show would discuss a particular game. In addition to the articles about each game, the book features a section on how to hold a Nintendo 64 controller, as well as artwork from Henry Perez (g1 MarioMiyamoto), and a checklist of all the games featured.
Ad blocker interference detected!
Wikia is a free-to-use site that makes money from advertising. We have a modified experience for viewers using ad blockers

Wikia is not accessible if you've made further modifications. Remove the custom ad blocker rule(s) and the page will load as expected.