This article requires some dates.  You can help out Screwattack Wiki by finding the ORIGINAL airdate to a video either on YouTube or ScrewAttack.

Reason: blip.tv doesn't seem to show the dates on their pages
The Scoop was a show hosted by Ben. The concept of the show was to be similar to a Video Game Vault, except it listed the best and worst parts of the game.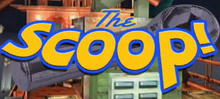 List of Episodes
Edit
Ad blocker interference detected!
Wikia is a free-to-use site that makes money from advertising. We have a modified experience for viewers using ad blockers

Wikia is not accessible if you've made further modifications. Remove the custom ad blocker rule(s) and the page will load as expected.