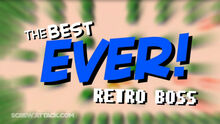 The Best Ever is a show where some members of the ScrewAttack staff and sometimes special guests are interviewed about what their Best or Worst ever thing is in that topic. The show began on January 13th 2012 and is still a feature today. Ben usually asks questions on a Best / Worst topic to other members of ScrewAttack, or to special guests.
List of Episodes
Edit
Ad blocker interference detected!
Wikia is a free-to-use site that makes money from advertising. We have a modified experience for viewers using ad blockers

Wikia is not accessible if you've made further modifications. Remove the custom ad blocker rule(s) and the page will load as expected.