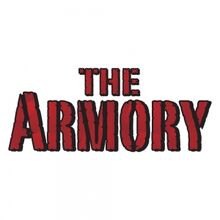 The Armory was a show that discussed weapons from video game series. In it's original run, it was hosted by
Destin
. The show ran between 2008 and 2011, spanning Destin's entire time at ScrewAttack. When it was rebooted in 2013, it was hosted by
Boomstick
.
List of Episodes
Edit
Original Run (Destin)
Edit
This article requires some dates.  You can help out Screwattack Wiki by finding the ORIGINAL airdate to a video either on YouTube or ScrewAttack.

Reason: We don't know the dates for most of these episodes. If all original dates are found, please sort these episodes in that order.
To do:
Find the correct dates (many are listed under the same date for some reason), and then sort them in correct date order.
Reboot (Boomstick)
Edit
The Shotgun and Poke Ball episodes were repeated when Boomstick rebooted the show.
Ad blocker interference detected!
Wikia is a free-to-use site that makes money from advertising. We have a modified experience for viewers using ad blockers

Wikia is not accessible if you've made further modifications. Remove the custom ad blocker rule(s) and the page will load as expected.