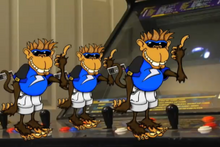 Screwy the Monkey was ScrewAttack's unofficial and unwanted mascot - until he was killed off for good. He is known for being incredibly unwanted, and causes a lot of trouble for everyone.
Screwy's first appearance was the Cool Spot episode of the Video Game Vault, when he annoyed Craig while he was attempting to make the vault.
Screwy was in focus during the Clip of the Week "The Invasion", where multiple Screwy's attempted to take over the HQ.
He made a handful of appearances later on, but was never popular. He also was brought back into focus again in "Screwy's Back", where he steals things from the crew.
In his original appearance in the Cool Spot VGV, he wears a red shirt. This was changed in The Invasion, where he was redesigned to a more ScrewAttack-like blue shirt.