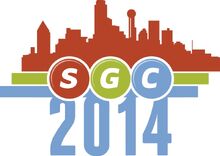 SGC 2014 was ScrewAttack's 4th annual internet and gaming convention held at the Sheraton Dallas Hotel in Dallas Texas. It was held between the 11th - 13th July of 2014. This was the fourth time the convention was held, and was a large expansion on the previous year, with more guests, more panels and a larger attendance with nearly 5000 in attendance.
Panel Schedule
Edit
Friday 11th July
Edit
Main Stage
Edit
10.30am - Band Sound Check
12.30pm - SGC 2014 Opening Ceremonies
2pm - The Game Theorists
3.30pm - Death Battle
5pm - Angry Joe and Friends share YouTube stories and secrets
6.30pm - ScrewAttack
8pm - James Ronald & Brentalfloss performances
10pm - Mega 64 vs ButtAttack (ScrewAttack)
12.30pm - Chance Time (with Jared, Sam, Chad and Space Hamster)
Panel Room 1
Edit
2pm - ProJared
3.30pm - That One Video Gamer (The Completionist)
5pm - Mega 64
6.30pm - FUNimation
8pm - Black Nerd
9.30pm - Indie Gaming: The Journey of Video Gaming's Underdog
Panel Room 2
Edit
2pm - Gaming Trivia Panel presented by Manly Gamedas
3.30pm - Annoyed Gamer (cancelled due to illness) - replaced by Craig's Hour of Fun!
5pm - How to get your content seen on ScrewAttack.com
6.30pm - Electronic vs Tabletop Gaming
8pm - Intergalactic Nyan Cat Panel!
Saturday 12th July
Edit
Main Stage
Edit
10am - ScrewAttack Games
11.30am - PeanutButterGamer
1pm - Team Fourstar
2.30pm - Keiji Inafune
4.30pm - NormalBoots
6pm - Smooth McGroove
7.30pm - Cinemassacre & Angry Video Game Nerd
9pm - Cosplay Contest
11.30pm - Video to Views: How to become YouTube's Next Great Gamer
2am - 0073735963: The Reckoning (Craig plays Mike Tyson's Punch Out)
Panel Room 1
Edit
10am - Brentalfloss
11.30am - NateWantsToBattle
1pm - Hidden Block
2.30pm: Dallas IGDA Presents: What's it really like to work in the game industry
4pm - Pat the NES Punk
5.30pm - Mario Kart 8 Tournament
8.30pm - Did You Know Gaming
10pm - Powerfest - The Champ looks back at the Nintendo World Championships 1990
11.30pm - Team Four Star
1am - Rave & DJ Battle
Panel Room 2
Edit
11.30am - Live Streaming and Why It's Awesome 2: The Reckoning
1pm - The Dex
2.30pm - Video Game Remixing with DJ Cutman
4pm - Mega 64 podcast
5.30pm - The Gamechasers
7pm - Cosplay Contest Pre-judging
8.30pm - Guitar Hero Anime Edition
10pm - In the Mind of a YouTuber
11.30pm - YouTube Hell
Sunday 13th July
Edit
Main Stage
Edit
9.30am - Sidescrollers
11am - JonTron
12.30am - Iron Man of Gaming set-up
2pm - Iron Man of Gaming and Closing Ceremonies
Panels and Videos
Edit
PeanutButterGamer Panel
Team Four Star Panel - Epic DBZ Abridged Creators
Theorists Unite! Q&A with Game Theorists
Smooth McGroove Q/A
Keiji Inafune Q/A - Mighty No. 9 Legends???
After Dark: Chance Time
SGC 2014 Opening Ceremonies!
Mega64 vs ButtAttack
JonTron, Angry Joe, Game Theory, and more coming to SGC 2014!
TheKingNappy, NateWantsToBattle, and more guests revealed for SGC 2014!
SGC 2014 Dallas Sheraton Tour!
Mega64, ProJared, Smooth McGroove and more guests revealed for SGC 2014
Panels not on the ScrewAttack YouTube
Edit
Hidden Block Panel at SGC 2014
Iron Man of Gaming
Edit
Iron Man of Gaming returned once again in 2014. The games played included Tony Hawk's Pro Skater 2, Titanfall, Tetris Attack, Burnout 3: Takedown, Shovel Knight, Killer Instinct (XBox One).