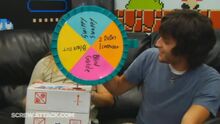 Roulette Tuesday was a sub-show on Screwin' Around. In this segment, two hosts (usually Sam and Chad/Nick) would spin a roulette to decide how they would play the game that they had chosen to play for the day. The show was apart of Season 3 of Screwin' Around and aired during the second half of 2012. During the gameplay, once a goal has been reached, the roulette is spun again, and a new challenge is arranged. However, the objectives are stacked, meaning that the previous option is still in play.
Also, if a challenge is met, a g1 who is watching the stream is chosen to win a prize.
The options on the wheel that could have been chosen included;
Arcade Stick from Hell - Chad made an arcade stick out of a cardboard box! And he has shuffled all the buttons and stick controls so it becomes disorientating to play.
Two Dudes, One Controller - The two hosts must share the controller, with one person controlling the buttons, while the other directs the stick.
Blind Guide - One person is blind folder while the other directs them.
Upside down controller - the controller is turned upside down.
Black Out - the right third (or so) of the TV screen is covered so the host cannot see what is coming up.
List of Episodes
Edit
 ? - July 18th 2012
Left 4 Dead ? - August 1st 2012
Blind Folded Fighting. with Babies! - August 8th 2012
Street Fighter - August 15th 2012 Hosts: Sam, Nick
Mega Man, Yoshi's Story and F-Zero - August 22nd 2012
Left 4 Dead 2 - August 29th 2012
Mega Man X - September 5th 2012
The Controller From Hell (Mega Man X) - September 12th 2012 Hosts: Sam, Nick, Chad
Rocket Knight Adventures - September 19th 2012
Why Sonic Why! - September 26th 2012
Banjo-Kazooie 30 Jiggly Challenge - October 3rd 2012
Super Mario Bros. 2 - October 10th 2012
Typing of the Dead - October 17th 2012
Hey You, Pikachu - October 24th 2012
Earthworm Jim - October 31st 2012
Stick From Hell, Blind Guide, 2 Dudes/1 Controller, Black Out - February 26th 2014 (this is a suspicious looking date)