| | |
| --- | --- |
| | This article contains spoilers. Although, these videos are old anyway, and you should have already seen them, but we're so nice we're warning you anyway! Now hurry up and watch them. |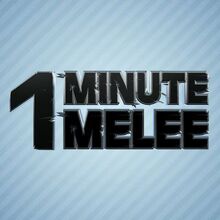 One Minute Melee is a spin-off of Death Battle. Death Battle gained so many animators that they decided they wanted to show off more of their talent, and together put together One Minute Melee. This show, just like it's parent, pits two characters together to fight. The show began on October 6th 2014. This differences from Death Battle in several ways;
There is no research. The winner is purely decided by whoever the animator wants to win.
Fights are restricted to one minute. The result is won and lost at the end of the minute.
List of Episodes
Edit
Season 1- October 2014-May 2015
Edit
Season 2- July 2015-January 2016
Edit
Ad blocker interference detected!
Wikia is a free-to-use site that makes money from advertising. We have a modified experience for viewers using ad blockers

Wikia is not accessible if you've made further modifications. Remove the custom ad blocker rule(s) and the page will load as expected.