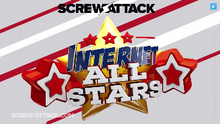 The Internet All Stars was a competition between several internet personalities. The five competitors competed in Nintendo World Championships for the NES. They had 6 minutes and 21 seconds to get as many points as possible.
Machinima's Adam Kovic
Edit
Craig introduces the Internet All-Stars Challenge. The winner will win $1000 for charity. Adam introduces himself. They are competing in the Nintendo World Championship.
Everyone yells at Adam to get the coins. He falls into a pit and dies. Adam makes it to the end of World 1-1. He gets into World 1-2, and dies on a koopa. Finally, he gets his 50 coins. He plays Rad Racer. Adam gets cut off by another car. Adam crashes into a tree. He finishes Rad Racer, and moves onto Tetris. He has a horrible start. Time runs out before he can clear the board, and finishes with 100830. Adam has set the bar very low.
Gametrailers' Brandon Jones
Edit
Craig introduces the All-Stars Challenge. Brandon introduces himself. Brandon will not be making a new strategy after watching Adam. Brandon quickly makes it to the end of world 1-1, and gets fire works at the end, which is a bad idea!
He hits a goomba. He makes it to the end of the level. Adam says that Brandon should have died. Brandon finally finishes Mario, and moves onto Rad Racer. Brandon hasn't played Rad Racer in 20 years. He gets stuck behind some cars, and ruin's a family's vacation.
Brandon crashes off the track. Brandon has ten seconds to play Tetris. He barely misses out on being able to clear two lines, and gets a final score of 118465.
Jesse Cox
Edit
Jesse introduces himself as he eats bread. Jesse is not confident. His strategy was dumb. He pushes the first mushroom off the screen. He quickly gets to the bottom of the flagpole for no fireworks. Jesse has no plan, and accepts the compliments besides making impressive moves. Jesse forgets to kill himself, but can't move back and can't get to an enemy and has to move on.
Jesse skips over coins, and Craig yells at him for it. Eventually, Jesse dies with one more coin required. He moves on to Rad Racer. He crashes quickly. Craig discusses the winner of the 1990 competition. Jesse barely gets to start Tetris. He gets 105560.
Ben Singer
Edit
Ben introduces himself. Ben has played this before a little bit. Ben is the first one to go down the pipe. He makes sure to die on a goomba for strategy. Brandon's mind will blow! He gets his 50 quickly. Ben thinks they should have done this with the power glove.
He somehow dodges two cars in Rad Racer. Ben shows himself driving with one hand. Ben gets several lines while the other competitors yell at him to get lines. Time eventually runs out, and he gets 121775, moving into the lead.
Kyle Bosman
Edit
Kyle introduces himself. Kyle uses the same strategy as Ben by going down the pipe. He gets fireworks at the flagpole, and moves onto World 1-2 to get his remaining coins. Jesse comments on Kyle not blinking. Kyle gets pushed around the road by other cars, but does not crash.
He plays Tetris. No one knows how to play Tetris! Kyle clears four lines. He quickly clears line after line. His final score is 452750!
| Competitor | Mario | Rad Racer | Tetris | Total |
| --- | --- | --- | --- | --- |
| Adam Kovic (Machinima) | 37150 | 63180 | 500 | 100830 |
| Brandon Jones (GameTrailers) | 54000 | 62890 | 1575 | 118465 |
| Jessie Cox | 42150 | 63150 | 300 | 105560 |
| Ben Singer (ScrewAttack) | 12000 | 63150 | 46625 | 121775 |
| Kyle Bosman (GameTrailers) | 37800 | 63100 | 351850 | 452750 |
Ad blocker interference detected!
Wikia is a free-to-use site that makes money from advertising. We have a modified experience for viewers using ad blockers

Wikia is not accessible if you've made further modifications. Remove the custom ad blocker rule(s) and the page will load as expected.