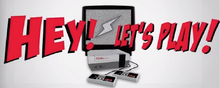 Hey! Let's Play! was a short-lived let's play show hosted by Chad James and another member of ScrewAttack staff. It involved the hosts playing the entire game from start to finish. It began with Chad and Craig playing Super Mario 3D World on the 23rd of December 2013. The series finished early 2014 due to Chad's other commitments and has since been merged into ScrewAttack Live.
There is one unaired series of Hey! Let's Play! Chad and Ben were going to play Sonic '06, and while it was recorded, it was never shown.
Ad blocker interference detected!
Wikia is a free-to-use site that makes money from advertising. We have a modified experience for viewers using ad blockers

Wikia is not accessible if you've made further modifications. Remove the custom ad blocker rule(s) and the page will load as expected.