This article could use a rewrite. You can help out Screwattack Wiki by fixing up wording, getting stuff right and helping Chad translate whatever Sam is saying.

Reason: some good stuff here, but Destin was at ScrewAttack for a long time. This page is long from done.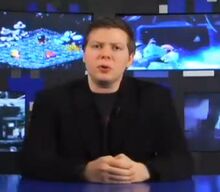 Destin Legarie is a former member of ScrewAttack. Destin is a news journalist and has worked in the gaming news industry before he joined ScrewAttack, and even hired Ryan Conway and Andrej to work as part of the new news component in 2009. Destin had two flagship shows during his time at ScrewAttack. Hard News and The Armory. Destin is known for his snarky comments, and aggressive personality in Clip of the Weeks.
In August 2011, Destin left ScrewAttack to take a job at IGN. However, he still keeps in touch with some of the g1's and has caught up with his former employers many times. During SGC 2013, he competed in Mario Party After Dark to the delight of many longtime g1's.
ScrewAttack roles
Edit
Destin was the news manager, presented Hard News and The Armory.
Shows that he has worked on
Edit
Hard News, The Armory, Clip of the Week
Ad blocker interference detected!
Wikia is a free-to-use site that makes money from advertising. We have a modified experience for viewers using ad blockers

Wikia is not accessible if you've made further modifications. Remove the custom ad blocker rule(s) and the page will load as expected.